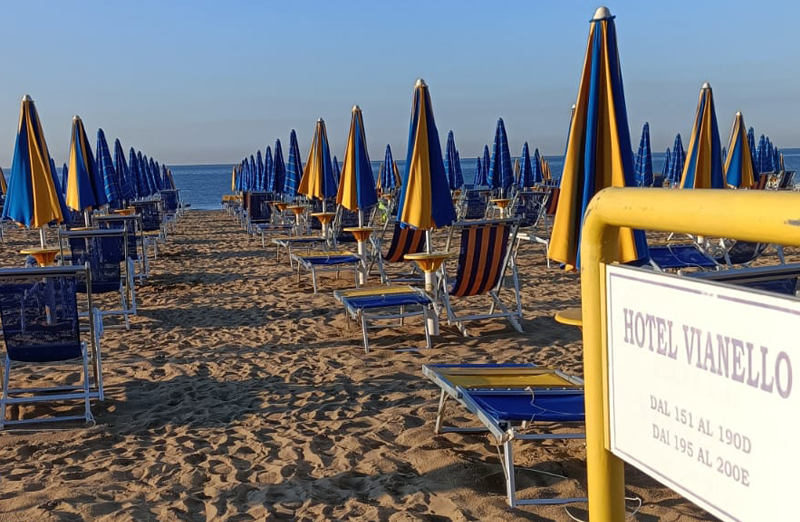 Just 300 meters with a short and simple walk of maximum 5 minutes (to give you a comfortable time) you can reach our private beach.

The beach service includes an umbrella and two sunbeds. The assignment of seats is free except for the first three rows facing the sea which can be booked at the reception for a fee. The beach to which we belong offers, for our guests, cabins where you can change, free toilets and showers, surveillance service during your swims in the sea by qualified lifeguards, an animation service that can be consulted and used directly in the consortium to entertain young and old, and land lifeguards to contact in case of need.

We also remind you that by municipal ordinance the beach is not accessible to animals except in the appropriate relevant areas, to reach them it takes 5 minutes by car.

Last recommendation, don't forget the sunscreen and beach towel from home!

Don't you want to spend the day of your check out driving in the sun? Ask at reception, based on availability and for a little extra, we give you the opportunity to use the swimming pool/beach and the parking lot even on the day of departure.

Private beach service active from May to September.
- in data 18/11/2020 la società Adone Vianello srl Codice Fiscale 03803980279 ha ricevuto il contributo previsto dal Decreto Rilancio per l'importo di Euro 5.075,00 (Art.25 del decreto-legge 19 maggio 2020)
- in data 26/11/2020 la società Adone Vianello srl Codice Fiscale 03803980279 ha ricevuto il contributo previsto dal Decreto Ristori e Decreto Ristori bis per l'importo di Euro 7.613,00 (Art.1 del decreto-legge 28 ottobre 2020 n. 137 e Art.2 del decreto-legge 9 novembre 2020 n. 149)
- in data 16/06/2021 la società Adone Vianello srl Codice Fiscale 03803980279 ha ricevuto il contributo previsto dal Decreto Sostegni per l'importo di Euro 14.741,00 (Art.1 del decreto-legge 22 marzo 2021, n. 41)
- in data 24/06/2021 la società Adone Vianello srl Codice Fiscale 03803980279 ha ricevuto il contributo previsto dal Decreto Sostegni bis per l'importo di Euro 14.741,00 (Art. 1 del decreto-legge 25 maggio 2021, n. 73)
- in data 30/12/2021 la società Adone Vianello srl Codice Fiscale 03803980279 ha ricevuto il contributo automatico sostegno al Turismo per l'importo di Euro 5.000,00 (Art. 6, comma 6 e ss del DM 243 2021)
- in data 16/03/2021 la società Adone Vianello srl Codice Fiscale 03803980279 ha ricevuto un mutuo per nominali 30.000,00 garantito dal Fondo di Garanzia PMI Aiuti di Stato ai sensi dell'art.1 del decreto legge 8 aprile 2020, n.23
- "La società ha ricevuto benefici rientranti nel regime degli aiuti di Stato e nel regime de minimis per i quali sussiste l'obbligo di pubblicazione nel Registro Nazionale degli aiuti di Stato di cui all'art. 52 della L. 234/2012."